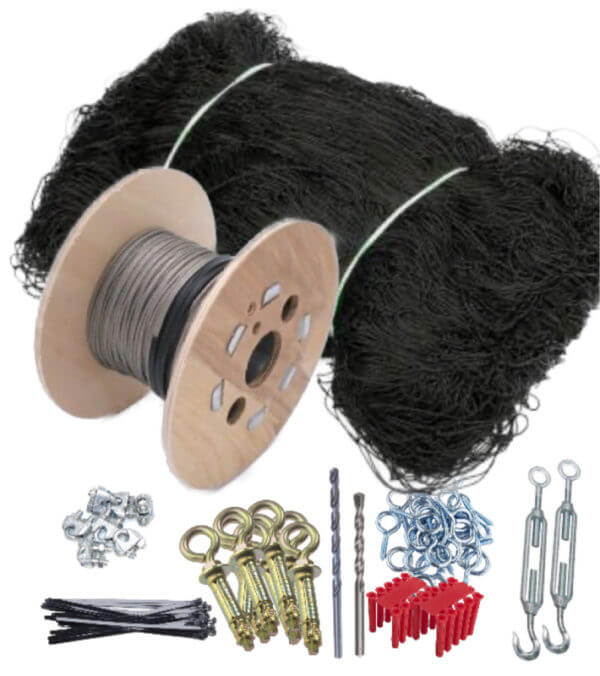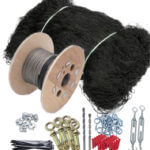 Pigeon Netting Kit 5m x 5m
£54.00 including VAT
Description
A complete pigeon netting installation pack with everything you need to net off an area to prevent pigeons nesting on a building and stop these pesky birds from fouling too. The netting in this kit measures 5m by 5m.
Cost-Effective
All You Need In One Handy Pack
Comprehensive Advice Sheet Included
Everything you need except the drill and wire cutter.
This is a pack of items suited to net off a balcony or light well to a fairly professional standard to prevent pigeons from accessing the area.
50mm black polynet as used by professionals. Although designed for use on a flat (no projection) balcony the kit can be used for other types of balconies and for light well netting.
You may need some additional fixings for projecting balconies.
The standard pack comes with a black net, please call if a different colour net is required.
Advice sheet included.
Same products as used by professionals except for the cable ties, which connect the net to the surrounding wire.
Includes:
a 5m x 5m black bird net (Polyethylene knotted) with 50mm hole size
25m Roll of 1.5mm 7 x 7 stainless steel net surround wire rope
25 x BZP intermediate fixings with drill bit
6 x Corner bolts with drill bit
2 x Galvanised barrel strainers
8 x Galvanised wire rope grips, with nut spinner tool for tightening
400 black cable ties for fitting net to wire surround.
Professional upgrade, available above, which adds Stanley Hog Ring Stapler and 500 Galvanised Hog Rings, used for connecting the net to the wire surround and removes the cable ties from the pack, very much easier and longer lasting than cable tie fixing. Doubles the pack price though!

If you have any questions or want advice for your installation, please don't hesitate to call us. We're happy to help and aim to solve your problem as best we can. Phone number is at the top of the page.