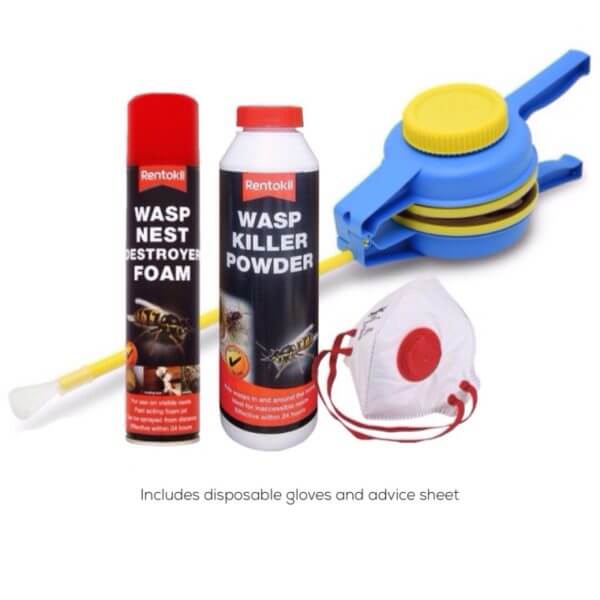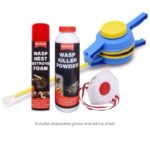 Wasp Nest Killer Pack
£43.44 including VAT
Will treat a nest you can see or one you cant see
Description
Delivery
Reviews
Description
A small wasp nest killer kit for dealing with a wasps nest in most situations.
All-In-One Pack To Deal With Wasp Nests
Ideal For Repeat/Future Treatments
Deals With At Least 5-6 Wasps Nests
Our Wasp Pack now has the Bellows Duster as the main application tool. This duster is widely used by pest controllers. It can be filled safely and easily and provides ample power to blow the dust, although it is usually best to get as close as possible to avoid wasting dust in the air. The dust will start to spread as soon as it leaves the nozzle end. The Duster Bellows comes with a 15-inch lance as standard and will give years of repeat service. Just pour the wasp killer powder into the receptacle, screw on the top, affix the lance and dust around and into nest entrances etc. The 300gm dust will be sufficient to deal with around 5-6 nests.
The Rentokil Wasp Killer Foam Aerosol can be used to spray over visible nests, it will encase the nest in a poisonous foam and if wasps try to eat their way either inwards or outwards the foam will kill them.
Add a beekeepers jacket for personal protection when dealing with very active nests, available in related products.
Our Wasp Nest Killer Pack includes:
1 x 300gm Rentokil Wasp Killer Powder
1 x 300ml Rentokil Wasp Killer Foam
1 x Polminor Bellows Duster
1 x Face mask
1 x Disposable Gloves.
Gloves are for handling the insecticide, not as protection from wasp stings.

FREE Delivery for orders over £150 (ex VAT- UK Mainland only)
Royal Mail 2nd Class*

2 -5 days


£3.44

Royal Mail Tracked 24


1-2 days


£4.99

DPD


Next Working Day**

Order by 4pm Mon-Fri

£5.99

DPD

Next Working Day (Pre 12pm)


Order by 4pm Mon-Fri

£18.60

Saturday & Sunday Delivery

Specific day delivery

Book before 4pm Friday

£15.54
* Quantities of liquids and aerosols cannot go by post  (Even though you may get through the cart with it!).
 

COURIER

(Inc. NORTHERN IRELAND)

2 days


£18.60