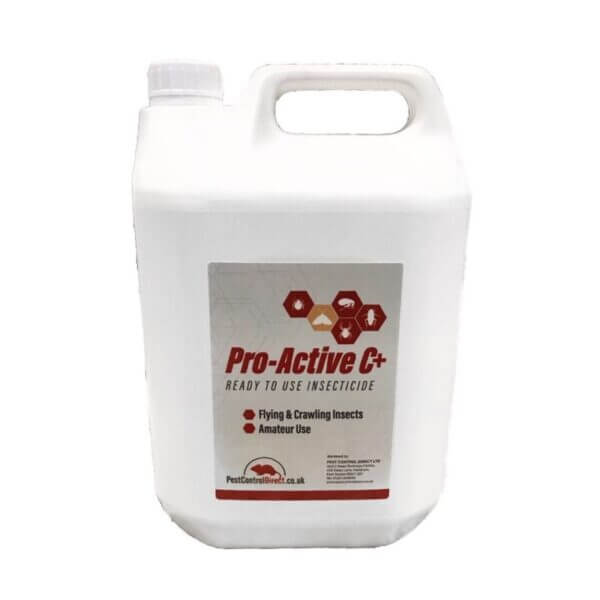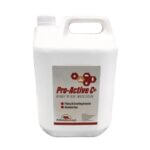 Pro-Active C+ Silverfish/Bristletail Killer 5 Litre
£34.80 including VAT
Will last 12 weeks after application.
Description
Data Sheets
Reviews
Description
A large 5 litre container of Pro-Active C+ Silverfish Killer for whole-house treatment and eradication.
Control a significant silverfish problem
Long-lasting residual performance
Child/pet safe once dry
Much more cost-effective than buying 5 smaller 1-litre bottles of silverfish spray if you have a larger area to treat. Pro-Active C+ silverfish killer is a very wide spectrum crawling and flying insect killer which can also help to eradicate other common household insects too. Apply at one litre per 20/25sq. metre for best results.
For ease of application if you do not have a sprayer, add the optional hose and trigger spray. With this large spraying machine, you can carry the 5-litre container and spray as you go, which avoids any decanting of the product and makes the application easy. It will last 12 weeks after application and continue to eradicate silverfish.
Shelf life is 2 years.
Contains: Cypermethrin 0.092% Chrysanthemum 0.01%
We suggest you also order a face mask (EN149) if you will be spraying above waist height or suffer from asthma, these are available below. Don't be fooled by free masks being offered by competitors, they can be of poor quality and therefore have little use for protection.
If you have any questions or want advice for your silverfish infestation, please don't hesitate to drop us a message call us. We're happy to help and aim to solve your problem as best we can.
You may also like…
Ants, Amateur Use Woodworm, Dry Rot and Rising Damp Products, Bed Bugs, Carpet Beetle, Garden Ants, Pest Control Safety Equipment and Protective Clothing, Cockroaches, Dust Mite, Fleas, Food Stored Product Pests, Silverfish Killers, Traps, Sprays & Poisons, Spiders Killer Sprays & Traps, Woodlice, Woodworm & Dry Rot

PCD 5 litre Pressure Sprayer

A good quality low cost sprayer

£

15.60 including VAT