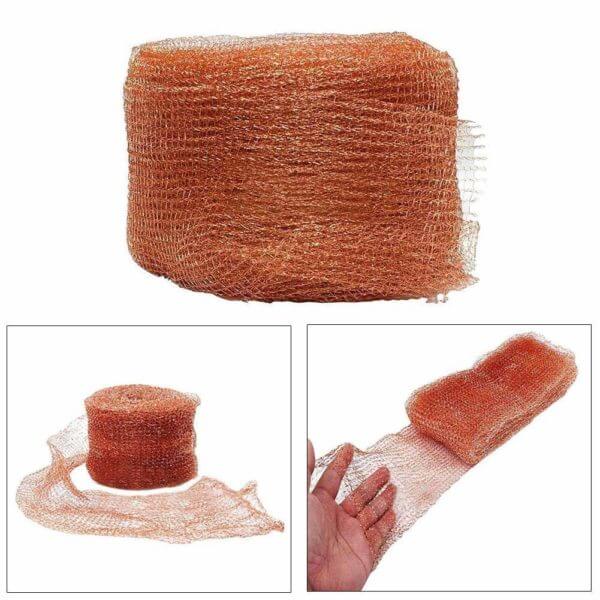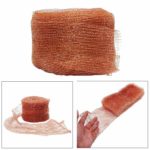 100% Copper Mesh (100ft Roll)
£38.40 including VAT
For Mice, Rats, Squirrels, small bird and slug/snail proofing
Description
Delivery
Reviews
Description
Long Lasting
Does not rust
Easy to work with
Enviromentally Friendly
Copper Mesh 100% copper for rodent exclusions and rodent-proofing. Copper Mesh is tubular, laid flat (approx. 6″ wide) and rolled for easy storage and use.
Copper mesh roll to fill cracks where pipes enter the home along with filling gaps around foundation vents etc. Easy to cut, shape and install. Much easier to work with than steel wool, copper will hold up to the elements by not rusting.
Rodents will not gnaw through copper mesh. For stuffing into openings, pack tightly into cracks or holes for exclusion of pest such as rats, mice, squirrels and birds. Can be used on its own to stop gaps up to 50mm in diameter or it can be combined with expanding polyurethane foam to stop gaps greater than 50mm. When using with expanding foam simply stuff the copper mesh into the void to be filled, then insert the nozzle of the foam can into the centre of the mesh ball and dispense the foam.
Other uses include:
SLUG AND SNAIL MESH TO PROTECT YOUR VEGETABLE BEDS – A copper slug barrier is easy to install around vegetable beds or host pots, ensuring your vegetables can flourish without slug or snail infestation.
CLEANING –
Copper mesh can be used as an effective cleaning utensil, and can be used as copper scouring pads. The anti-microbial properties of copper lends itself to this application.
Does copper mesh keep mice out?
Copper mesh wool to stuff into small cracks, to exclude mice. Copper mesh is an excellent way to exclude rodents from crawling into tights spaces. By stuffing copper mesh into holes and openings and other possible points of entry, rodents will be unable to crawl through and will have to go elsewhere to find a place to gather and cause destruction.
Can rats chew through copper mesh?
 Copper Mesh wire mesh will not rust and more importantly, the rodents can not chew through it. However, it will need to be tightly packed in with foam or sealant as rats will move it given the chance.

How do you use copper mesh for rodents?
Typically, if you close an opening around a pipe or wire with just expanding foam, the rodents will eat through it. If you place Copper Mesh in the hole first and then use expanding foam, the foam will encase the mesh.
SHIPPING INFORMATION
We try to keep our shipping costs as low as possible and offer the cheapest option based on the weight of your order.
*Long items 1m and over will now be subject to a slightly increased carriage charge of £7.20 inc vat and can only be shipped on a 1/2 day delivery via Parcelforce

Orders must be made before 4pm in order to be shipped same day. We are unable to ship orders Bank Holidays and Weekends.
FREE Delivery for orders over £150 (ex VAT- UK Mainland only)
UK MAINLAND SHIPPING INFORMATION
We use Royal Mail and Parcelforce for UK Mainland deliveries. Parcelforce will not leave an item safe unless we have been instructed to do so, please leave an instruction to leave safe at time of ordering.
Royal Mail 2nd Class*

2 -5 days


£3.44

ParcelForce 48


Long Item Delivery 

(1m or over)

2 days


2 days

£4.99

£7.20

ParcelForce 24

 

Next Working Day**Order by 4pm Mon-Fri

£5.99

ParcelForce AM

Next Working Day (Pre 12pm)


Order by 4pm Mon-Fri

£18.60

Saturday


Specific day delivery

Book before 4pm Friday

£15.54
* Not permitted items are quantities of aerosols, over 2kg in weight and liquids. Liquids and aerosols cannot go by post to Ireland, Scotland or Jersey (Even though you may get through the cart with it).
** Some Scotland Post codes may take 2-5 days to arrive. Order by 4pm Mon-Fri
 SCOTTISH HIGHLANDS AND REMOTE AREAS SHIPPING INFORMATION

Next working day delivery is not available for the Scottish Highlands and some remote areas where an additional charge may apply.
COURIER
(Northern Ireland, Isle Of Man and Isles of Scilly)
2-3 days
£24.00 inc
We no longer able to offer a delivery service to Jersey or Guernsey.
SHIPPING TERMS
1. Although we offer a Next Day delivery there is not a 100% Guarantee that your order will be delivered next day, we always despatch on time but couriers don't always deliver. We cannot offer any refunds if it is a day late.
2. In the unusual event where delivery is repeatedly refused or no effort is made to accept delivery, we reserve the right to pass delivery and return courier costs to the customer.
3. Orders despatched on Friday will not be delivered on Saturday unless the Saturday delivery option is selected at checkout.
4. Back orders: If your item is not in stock, we will back order for you. You will always be emailed with the option to cancel your order if you would rather not wait.
5. Royal Mail 2nd class deliveries may take over 5 days at busy times. We have to allow up to 14 days for the order to be delivered before we can resend or refund to declare it as lost.