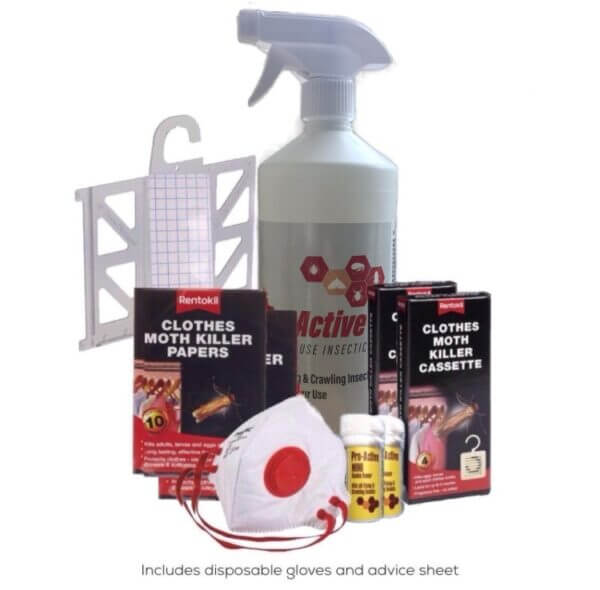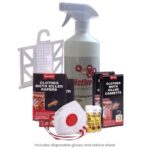 Webbing Clothes Moth Kit
£45.60 including VAT
Pack for control of Clothes Moth in room, wardobes and drawers.
Description
Data Sheets
Delivery
Reviews
Description
All you need in one box

Comprehensive advice sheet

Cost effective

A pack of products to deal with an average infestation of clothes moth in one or two rooms.
These are our top selling products for webbing clothes moth control and the introduction of Transfluthrin as an active ingredient to the Rentokil Moth Killer products is making clothes moth control more certain and less costly than before. Tranfluthrin slow releases over a period of up to six months meaning less often replacements and therefore lower costs.
Contents:
1 x Pro-Active C+ (Cypermethrin 0.92% Chrysanthemum 0.01%) 1 litre trigger spray.
2 x Pro-Active Mini Smoke Fumers.
2 x Rentokil Moth Killer Strips (1 pack of 2).
2 x Rentokil Moth Killer Cassette (2 packs of 2).
2 x Moth Pheromone Sticky Pads.
1 x Demi Diamond Sticky Pad Holder.
1 x Face Mask.
1 x Gloves.
As with most pests, you will need to be thorough in your treatment in order to gain success.
You can deal with clothes by Dry cleaning, washing at a temperature in excess of 70c or freezing in polybags (squeeze out air before freezing) for 72 hours.
2016 update : We now are able to offer a Acana Clothing spray ideal for spraying clothes before storing. Product is in 'related products'
Once the clothes are removed from the storage area you need to apply Pro-Active C+ by spraying all internal surfaces of cupboards, drawers and wardrobes. Allow to dry.
Carpet Treatment: (you may be better buying Pro-Active C+ for carpet moth treatment in carpets as you really only need Pro-Active C+ for this and you would probably require more than one!)
If the problem is in carpeting, then lift the edges of the carpet and spray with Pro-Active C+ underneath inwards about 50cm from the skirting (this should be sufficient for under carpet treatment), then spray the upper carpet surface at least 50cm inward from skirtings all around the room, plus treat the carpet under any furniture that is not regularly moved and vac'd under. Obviously, if moth are evident in other areas then spray these too but generally moth do not infest walked on areas (generally!!!).
Back to the clothes; Once you have sprayed the cupboards and drawers etc. you can use the smoke.
An advice sheet comes with the smoke canisters, please follow carefully..
Once you have carried out the smoke treatment you can introduce the Moth Killer Strips/Hanging Cassette (instructions on the boxes). These products are active for around 6 months.
Re-apply Pro-Active C+ only if necessary as this will last for 12 weeks once applied.
When re-introducing clothes that have been washed, dry cleaned or frozen it is a good idea to keep them in moth proof bags where possible.
If you have any questions or want advice for your moth infestation, please don't hesitate to call us. We're happy to help and aim to solve your problem as best we can. Phone number is at the top of the page.
We try to keep our shipping costs as low as possible and offer the cheapest option based on the weight of your order.
*Long items 1m and over will now be subject to a slightly increased carriage charge of £7.20 inc vat and can only be shipped on a 1/2 day delivery via Parcelforce

Orders must be made before 4pm in order to be shipped same day. We are unable to ship orders Bank Holidays and Weekends.
FREE Delivery for orders over £150 (ex VAT- UK Mainland only)
UK MAINLAND SHIPPING INFORMATION
We use Royal Mail and Parcelforce for UK Mainland deliveries. Parcelforce will not leave an item safe unless we have been instructed to do so, please leave an instruction to leave safe at time of ordering.
Royal Mail 2nd Class*

2 -5 days


£3.44

ParcelForce 48


Long Item Delivery 

(1m or over)

2 days


2 days

£4.99

£7.20

ParcelForce 24

 

Next Working Day**Order by 4pm Mon-Fri

£5.99

ParcelForce AM

Next Working Day (Pre 12pm)


Order by 4pm Mon-Fri

£18.60

Saturday


Specific day delivery

Book before 4pm Friday

£15.54
* Not permitted items are quantities of aerosols, over 2kg in weight and liquids. Liquids and aerosols cannot go by post to Ireland, Scotland or Jersey (Even though you may get through the cart with it).
** Some Scotland Post codes may take 2-5 days to arrive. Order by 4pm Mon-Fri
 SCOTTISH HIGHLANDS AND REMOTE AREAS SHIPPING INFORMATION

Next working day delivery is not available for the Scottish Highlands and some remote areas where an additional charge may apply.
COURIER
(Northern Ireland, Isle Of Man and Isles of Scilly)
2-3 days
£24.00 inc
We no longer able to offer a delivery service to Jersey or Guernsey.
SHIPPING TERMS
1. Although we offer a Next Day delivery there is not a 100% Guarantee that your order will be delivered next day, we always despatch on time but couriers don't always deliver. We cannot offer any refunds if it is a day late.
2. In the unusual event where delivery is repeatedly refused or no effort is made to accept delivery, we reserve the right to pass delivery and return courier costs to the customer.
3. Orders despatched on Friday will not be delivered on Saturday unless the Saturday delivery option is selected at checkout.
4. Back orders: If your item is not in stock, we will back order for you. You will always be emailed with the option to cancel your order if you would rather not wait.
5. Royal Mail 2nd class deliveries may take over 5 days at busy times. We have to allow up to 14 days for the order to be delivered before we can resend or refund to declare it as lost.